Previously in series: New York Restaurants I Love: Breakfast
Previously in pizza: Restaurant Guide 2: Pizza
If you don't live in and aren't visiting New York, and want to know how to find good pizza, refer to the guide above. It tells you what you need to know.
This series is about the particular places I love. I want to help people find them, so they can enjoy, and can help the places stay in business. It does not mean these are the best pizza places in the city. Again, some of these are some of the best places. They are the ones that have the most value to me, based on where I live and my taste in a pie.
I mostly order plain (red) pizza, either regular, Sicilian or where available Grandma Sicilian. Most toppings, in my view, detract rather than add value. I'll take fresh garlic when available, and can be easily talked into ricotta. Where I can get prosciutto, I'll often take that, but definitely not other meats. I can't speak to topping quality, in most cases.
Remember, if you order in New York, use Slice.
I have never been to the original on Staten Island, but since this opened on 10th Street and 1st Avenue last year, it instantly became my clear go-to place for a pie. They aren't cheap, but they're worth it.
Their regular pie is quite good. a light blend:
Their vodka pie is also quite good. The real treasure is the Grandma Sicilian. Pictured with half pepperoni, because my friend wanted that yesterday.
That's what you should usually order. It's a huge amount of piping hot, super flavorful and perfectly balanced pizza that does everything I am looking for in this style of pizza.
I've also tried their pasta. The lasagna was quite good, the pesto less so, as one would expect.
It's a kid-friendly and nice place to sit down and have an amazing pizza as a family, which isn't something the area was missing before, and it blows everything else locally out of the water on quality except maybe Motorino, which we'll get to in a bit.
Good, fast, cheap. Usually one picks at most two. At Muzzarella on 14th Street and Avenue A, you get all three. The place doesn't look like much. Until a few months ago it didn't take credit cards. The ingredients aren't quite top level the way they are at most other places on this list, but they know exactly how to mix and prepare them to give that classic sauce-cheese goodness mix that one craves, and the crust is solid and complements what they're doing.
This isn't one of the best places out there. But for $14, you can get a damn fine pie, get it fast, and get it two blocks from my apartment (or get it delivered there, still very hot). Everyone needs a good delivery pizza place, so for that reason alone it makes the number two slot.
As of this writing I don't have a photo, so I'll be updating when I next order, if I remember to do so.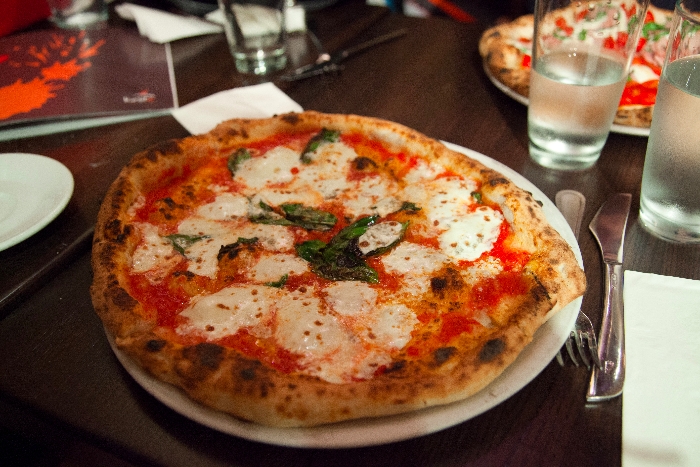 They only rank third due to their location relative to mine, out in the West Village, and I haven't been exhaustive in my searches outside of Manhattan, but I have this as the best pizza place. This is the perfect Italian pie. Balance is exactly right, the ingredients all soar, it's cheap, it's fast, it's peaceful and welcoming. Everything I want.
The pizzas are a little small. If it was close by, that might be a plus for me. Given how far it is, I get highly tempted to get two, which also grants variety, but is definitely a little more pizza than I should be eating.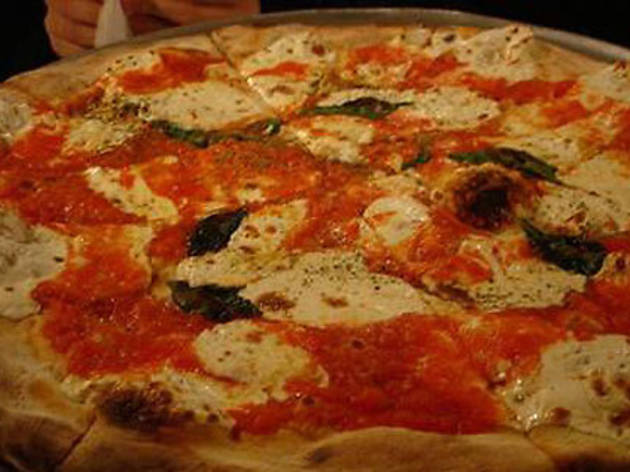 It's not quite as good as the original Juliana's, but it's close, and Juliana's is in Brooklyn while Grimaldi's is at the center of Chelsea. The style is a cross between New York and Italian, also similar to Joe and Pat's base pie. Note that the style does not travel at all, and must be consumed immediately. No time to waste. If your group orders multiple pizzas, try to space them out if you can! This is the only quality place I've been to that actively gives less cheese than I prefer, so I like to add ricotta here.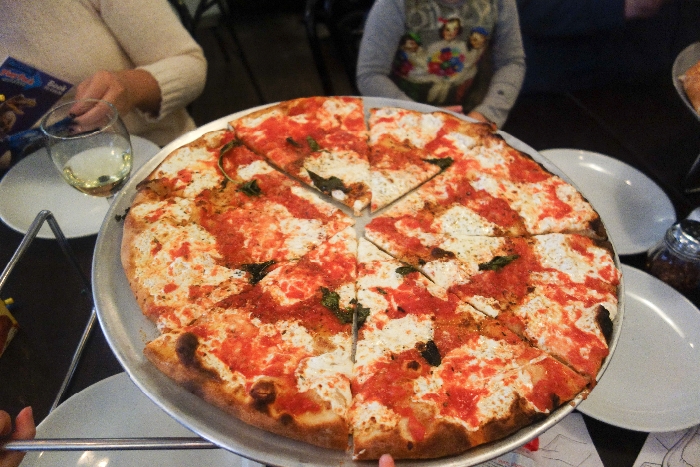 This is the original, the ultimate pizza of its class. Whenever I have a reason to be in the right part of Brooklyn, I'll do my best to make it here. That still isn't too often, though.
Motorino is up to four locations. It's no Keste, but it's only a few steps behind. The one near me is at 12th Street and 1st Avenue. I find them slightly overrated, but that is taking into account a very high rating where they pop up near the top of best-of lists. Their crust is quite strong. The lunch special gives you a quick pie-for-one for $15, and technically comes with a salad. Salads are not, shall we say, relevant to my interests. Get one of the pies that offers bufala mozzerella, as the difference is large. They are a cut above Luzzo's and other similar places in the area.
Dan Antonio is a unique style of pizza in what is otherwise a bit of a food desert aside from Plataforma, on the extreme west side on 50th Street. You want their Montanara pizza, which is their specialty, with a thick crust. When I was there they also offered dough balls as an appetizer for almost no money, a great deal if you're hungry now and/or want to supplement your pizza a little, but I don't see it on the online menu anymore. A shame.
It is a strange thing to list ten places and call two of them overrated, but I'm going to do that. Joe's is dear to me because it has a great location for me, and when it's on it serves up a most flavorful pair of slices at the counter. But every time I've ordered delivery, and sometimes when I go there, I've been disappointed, and I've given up on ordering whole pies here. Something's about the flavor's been off. Like Sal's below, it also does not reheat well (and the style is similar, which is a hint), so make sure not to let them reheat your slices for you.
But it's still a fine local place in my area that serves a purpose in my periodic pizza mix. When it delivers, it delivers the perfect neighborhood slice experience. Look at that pizza above, with that amazing texture. Often you can get exactly that, especially at peak times. Given what I'm up to, that merits mention.
Downtown offers several places in this style. From what I've seen, Rubirosa is the best of the bunch. The pizza looks like it shouldn't work, and it often feels like it is under-performing its ingredients. The ingredients are fantastic, though, so it's still quite good. Last time I went we got a white pie, and the heaping mounds of ricotta were exactly what I was hoping to get, as much as I always miss the sauce when I go in that direction. Their vodka and regular pizzas are solid, but the white is my favorite here so far.
When I was growing up, this was our pizza place. Sal was always the friendly guy behind the counter. That's him in the picture. Hi! Last time I dropped by he was still there. The pizza is classic New York style. When you got it fresh, it was excellent. But there was something about that particular pie that made it reheat especially poorly. I don't know what it is, but I learned I actively didn't want it once it went back into the oven. Many days I'd walk by, spy the pizza, and buy if and only if it looked hot. I'd ask for the pizza as-is. Warm wasn't bad – it was specifically the reheating, perhaps the way he did it, that made it into something alien and wrong.
Nowadays of course I would just order a whole pizza. No reason to take any chances.
Cafe Viva does not look like much. If you order a regular slice, you'll get something serviceable. Under normal circumstances, I would not have given the place much thought.
However, they were kosher, and four blocks from my parents' place where I was living at the time. I was not allowed to bring non-kosher food into the house, even pizza. That meant this was the best I could do, and I started experimenting.
I finally figured out the correct order: Sicilian pizza, well done. This resulted in a marbling of the cheese and a crispy crust that delivered a much better pizza than any of the alternatives. Without the lack of alternatives, I never would have figured it out. I almost certainly have underutilized this technique in other places – I may never have asked for a 'well done' pie anywhere else, when I think about it.
Others roundup
This summer I intend to go on the Brooklyn pizza odyssey, and find out whether the top reputations there are earned or otherwise. And there are plenty of places in Manhattan I haven't been able to try yet – next up is likely Prince Street Pizza. Meanwhile, there are lots of other good places in Manhattan worth sharing.
Back home on the Upper West Side at 110th and Broadway there's Koronet Pizza and its monster slices. I do mean monster. A slice of Koronet is larger than an entire Keste personal pie. When I first got to the area I made the mistake of ordering two slices. Don't do that. One is enough for anyone. An entire pizza can feed at least eight people. Probably more.
A block over on Amesterdam we had V&T. V&T was a nice, cheap Italian place for back when I didn't know what top quality Italian food was. Everything was cheap, the style was unique for the time, and it all played in a nice classic red sauce atmosphere. I was on a budget, and came often. The place is still there, still doing its thing. I now know one can do better, but you can also do much worse. Stick to the pizza.
Down at 106th and Amsterdam is Mama's Pizza. Classic New York slice place, full of the common people. Nothing that would blow you away, but it was pizza done right, with enough volume to keep the hot pies flowing. Always a solid choice.
Our area's most recent edition is Lunetta Pizza. It's a traditional New York slice shop, and the margarita pizza in particular looked promising so we ordered delivery. Alas, they couldn't find our apartment in reasonable time and it was a chilly day, so the pizza wasn't hot. Despite that, I could tell the pizza itself was legitimate, so at some point they're going to get another chance. Maybe I'll go in, maybe I'll give them another shot to find us. Navigating to our exact location can be a bit tricky.
There's also Numero 28. They're cash only, and they are clearly doing a thing with a distinct style, that's quite good. It's not quite up to the top level, but variety is great, so I've been meaning to go back there some time soon.
We're also within a few blocks of an Artichoke Pizza. Artichoke Pizza offers supremely thick crust pizzas with intense flavors. Before they moved across the street, I ate there several times, and also ordered delivery several times. Don't order delivery. They don't understand it, and it will take forever and likely be cold. You gotta go in. It plays out that this is almost never the experience I'm looking for, especially taking into account the extra calories it likely requires, so I end up basically never going. Still, it is a quality product and should be tried. If it closed I would be sad.
A few weeks ago I finally tried Lombardi's, America's first pizzeria. They've got a solid pie going on there. I was happy to have had the experience. But it's not quite as good as the best competition.
Down in the financial district where I used to work and my friend Gaudenis still lives, there was a strange difficulty in finding a strong New York-style place, so instead I ended up on three pizza-bar style places. First I discovered Harry's Italian, and then the slightly superior Adrienne's Pizza Bar and Inatteso Pizza Bar. All present a rectangular, two slices by five to six slices, thin crust, with a distinctive sauce-cheese mix that is common to all three. Definitely not bad.
Again, the goal here is not to claim these are the best places. Many of them are, but that's not the goal. The goal is to share that which has brought me joy, and which might bring you joy while helping my joy be sustainable. Check 'em out.
Making One's Own
If there is a good pizza place around and you are not poor, unless you enjoy the process, you shouldn't worry much about making your own. Pizza is one of the more efficient foods to buy versus cook. My friend Geoff has given us delicious homemade pizzas that were pretty great. I'm happy because I'm confident he enjoyed doing so. The hourly on that operation can't have been good.
Ben Harrison and his rationalist group did science and are now doing a write-up on creating cheap and efficient homemade pizza. You can find their guide here as a Google document. 
My experience making my own pizza was mostly positive. I started out in Denver using Papa Murphy's, as it was difficult to find a quality pizza place, and I appreciated the savings and the ability to have hot and fresh pies whenever I wanted. They put too much cheese on the pizzas, but that is easily fixed. It's not good pizza, but cheap, convenient, hot and fresh goes a long way. I started experimenting with rolling my own from scratch.
When I briefly lived in a suburb of Boston, the pickings got far slimmer. There was no good local place of any kind, so I regularly made my own from scratch. If you want to make your own pizza, it's best to roll your own dough and let it rise. Making your own sauce would be great too, but that was the level above mine. Many cans are decent. Experiment to find one you like, or spend the time and make your own.
Also important is a real pizza stone. If you're going to do this a lot, invest in one.
When making your own, you can get the proportions and details that you like best, which is great, and you get the joy of cooking and learning. It's nice. You don't have to care how it looks or whether others would like it. I used massive sauce quantities versus standard ratios, and was happy to do so.
It's also a lot of work, so I'm not that tempted to go back to it while I live in New York. But I do think back on it fondly.