Previously (and more generally useful): Restaurant Guide 1: Restaurants should not look like (most) restaurants, Restaurant Guide 2: Pizza
Also: Minimize Use of Standard Internet Food Delivery
I don't want to lose sight of the bigger issues pointed at last time. But for the moment, we have pressing matters to attend to that have been put off far too long.
In the last two months, I have lost two of my favorite three places to eat. BLT Prime, my happy place, closed its doors first. Then, a day after I lost my best Indian restaurant Old Monk, and wrote about the need to support local places so they stay in business, I find out my favorite breakfast source, Patisserie Florentine, closed its doors.
Twice in a row, I left my house to eat delicious food, only to find the destination permanently closed. Quite the kick in the nuts.
Thus, I feel the need to write this. This is a tabulation of all the New York City restaurants that would make me actively upset to find out they were closed.
That doesn't mean these are the best places in the city. Some of them are among the best. Some are simply the best that I've found, near where my apartment is, for a particular purpose I appreciate.
I hope that by telling the world about these places, I will encourage others to discover them, enjoy delicious food and help keep them in business. I also hope others will share the places they love, wherever you may live, and that others will alert me to places I have missed. New York is full of wonderful things, and I'm always finding new ones.
Let's start with breakfast. Hopefully posting this will create the momentum to finish the job.
I've got five places I'd especially hate to see go.
My favorite breakfast these days is croissants. Great croissants are amazing explosions of flavor, perfect to start the day. Their lightness allows them to provide the experience I want without too many calories, which is vital for me – my metabolism severely restricts how much I can eat. I just lost my best source within quick walking distance, but there are still great options.
My favorite place in the world to eat breakfast is Le Maisson de Macaron, at 23rd Street and 6th Avenue.
This is a wonderful place to sit down and relax, if one has the time. If not, one can still take away the best croissants, chocolate croissants and almond croissants I've ever had.
So get one of these:
And also get one of these:
At other times, of course, don't forget the namesake item:
Those are the best of their kind as well.
Also great is that they open at seven on weekdays, eight on weekends. And if you get there when they open, the croissants will usually be fresh and hot out of the oven. This is super awesome, and worth planning for. Seize the day!
Ess-a-bagel closed its doors a while back, which made me quite sad. But then I rejoiced when they opened them again, several blocks closer, and came back stronger than ever. I don't have a good enough memory to know if they have surpassed the original, famous H&H, but I suspect they have. These are some epic bagels.
Their creme cheese is good too. Like all bagel shops, they will give you far too much of it if asked, so I prefer to get a quarter pound at a time and apply it myself when I get home, which also keeps things warm for longer. They have all the other fixings you might want, too – their slogan is 'everything on a bagel' and they mean it.
More importantly, they are reliably hot and fresh. They do so much business that at any time in the morning, there's a very good chance that many of the bagels will still be hot. Be sure to ask which ones! I love me an everything, but if there's a right-out-of-the-oven sesame, poppy or plain, that takes priority.
I'll also share a neat little tip I figured out recently. Bagels are very cheap, and especially with everything bagels, the top half and the bottom half of the bagel are different. If you're craving one or the other of those two experiences, order two bagels and eat the half you want. 
I'm mostly not interested in their other offerings, but it is worth noting that their cheesecake and cake slices are from Carousel Cakes. Most times I'd advise against baked goods that had to travel that far, but given that restriction, they travel quite well and the results are top notch, especially the cheesecake, with the chocolate and red/blue velvet close behind.
When I lived in Chelsea, this was my bagel shop at 8th Avenue and 25th Street, even though it was a bit of a walk. I just learned they also have a location on 8th Street near Broadway, which is great news. The bagels about on par with Ess–a-Bagel, although their creme cheese isn't as strong so if you have the chance, get that elsewhere. It's fine in a pinch.
The two places have a lot in common. Both offer gigantic delicious bagels. Both are super popular, efficient operations with fast moving lines. Both have hot bagels often enough that it pays to ask for them.
The secret weapon of Brooklyn Bagel are the muffins. You wouldn't expect them to be great. Their other non-bagel baked goods are not great. The muffins are great. I could not find an image, but they are the most epic, and best, muffins I have ever had, especially if you order early and get them fresh. The tops are an almost perfect product, the perfect crunch. The rest is damn good too. Cake for breakfast as was originally intended, modified exactly right for the timing.
With the demise of Patisserie Florentine, the pickings for muffins in the East Village are slim, so every so often I'll break down and order delivery to get them.
As with many muffins, the secret is to buy two, and eat mostly the tops, since the tops are just better. This also allows you get variety. My favorites are the chocolate chip and the blueberry. The double chocolate is good too, but at that point it becomes a little hard to not notice that you're eating cake.
At Avenue B and Houston Street, potentially at the end of the long line pictured, lie the best blueberry pancakes I have ever had. It is not remotely close.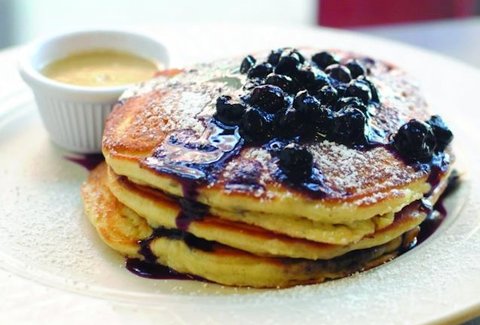 An amazing melted maple butter supplements liquid and non-liquid pure blueberry goodness atop a perfectly fluffy three stack. Getting a table is not a given, especially on a weekend when you can expect to wait. On a weekday, though, if you're willing to wait for them to open at eight, and perhaps a little longer after that – and can afford the calories involved – this is the good stuff.
Nothing wrong with their french toast or biscuits, or probably anything else they offer. My wife says the eggs are good. Not the same, though. Get the pancakes.
5. Il Buco Alimentari & Vineria
At night, this is a solid, safe place to meet up for a nice and quiet atmosphere backed by some solid fare and an excellent bread basket. Their pastas aren't bad. Not a bad play.
For lunch, they offer this excellent pork sandwich:
Also a strong move. Again, not what they are truly for.
What they are truly for is fresh and hot bread right at opening, at eight in the morning. What you want is this:
Except, instead of as a bread basket, as giant loaves you take home to your family with some combination of butter, oil, sea salt and freshly ground black pepper. They're the best I have found around these parts by quite a bit.
I'd also shout out to all the local restaurants out there that don't have a good bread basket. This place is here. They sell their fresh bread for not that much money. So does Eataly. So does Sullivan Street Bakery. Stop being cheap and/or lazy. Get on that.
6. Other Good Breakfast Stuff Round Up
I will occasionally crave doughnuts and head for Dough, have what I recognize as an excellent doughnut, and still regret it later. So I should stop doing that.
The backup plan for bread, or for delivery, would likely be Breads Bakery. It's a step down, but it plays. I've been surprisingly unimpressed by Danny Meyer's new Daily Provisions, on 19th and Park, but that's based on the pastries. The times I tried going there early the bread wasn't ready. I mention them because good fresh bread is surprisingly hard to find.
Dominique Ansel Bakery and Dominique Ansel Kitchen are the real deal, quite similar to Le Maisson de Macaron except for the ambiance, but not in locations where I get a chance to go.
Sometimes I'll grab a blueberry and/or chocolate chip muffin at Tarrallucci e Vino's secondary outlet on 10th Street and Avenue A. I used to love their cheese danishes as well, but then they didn't have them as often. Then they said they have them only on weekends now. Then they said they never have them anymore, when I came in on the weekend. Oh, well. They have other things as well, but they aren't quite up to my other options.
Back at my ancestral home on the Upper West Side, your best bet is waffles, french toast or other tasty things at the well-named Good Enough to Eat on 85th and Columbus. I go there every chance I get. Farther north, the good bagels are at Absolute Bagels.
And of course, nothing wrong with admitting the truth and just going to Levain Bakery for breakfast at 75th and Amsterdam.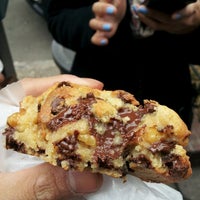 Yep. I'm in.
7. Breakfast at Home
While we're here, cooking many of the breakfast foods I love is quick, easy and gives great results even if you're bad at cooking, so no reason not to provide instructions. In particular, it's easy to make high quality oatmeal, cream of wheat, french toast and pancakes. Nothing wrong with a good old bowl of Cheerios on occasion, but we don't want to be forced on that if not going outside.
Cream of Wheat is easy. Buy it.
Follow directions. Five minutes later, breakfast.
For oatmeal, there isn't a particularly great brand and the instructions always work. The key is to get steel-cut oatmeal, and accept that it takes a while to make. If you don't have the time, eat something else today. The difference in quality is large.
Pancakes can be made from scratch, and they're better that way. But that sounds like work, and our revealed preference is that a mix is the right level of work versus reward. The key is to find the right mix. Classic Bisquick mix, or other similar sources, are a cheap and easy way to have a good breakfast if you follow the directions, but you can definitely do better.
We like these, which we order on Amazon:
Making pancakes is all about following the recipe, keeping a close eye on the timing, and not skimping on buttering the pan. Making waffles is about following the instructions on the waffle maker. And also buying a good waffle maker. Anyone know a good one that makes the kind with lots of squares instead of the type that only has nine squares per quarter of the waffle? Surprisingly hard to find.
Make sure to not skimp on the maple syrup or butter (and/or sometimes, when I'm mixing it up, strawberry/raspberry jam, or honey).
Lower grade butter like Land 'o Lakes or Breakstone's, the butters of my youth, are fine in a pinch. But 'pancake syrup' that isn't maple syrup is an abomination, as are all forms of margarine. Walk away. Do not trust the chef.
French toast is my favorite thing to make, and what I have most often. If you can, start with this:
Note how light that challah is, with lots of yellow area as opposed to brown. The more of that you can get, the better.
Other similar challahs are also great, then other challah styles. If that's not an option, move to sourdough, then Italian bread, then white bread. Slice it reasonably thick if you can. If it comes thinly sliced, that's not ideal, but it's not a dealbreaker.
You'll need one pan. I usually use a 9×9. If you're making for three or more people you'll want a bigger one, but a 13×9 will probably be sufficient. In the pan, crack one egg per two thick slices or three thin slices, and add whole milk such that the mixture is somewhat more milk-colored than egg-colored. In the 9×9 for two eggs and four thick slices, you want just under a quarter cup. Exact doesn't matter, there's a wide range where the end result is good so experiment and scale to your taste.
Adding a little vanilla is a good idea, but unnecessary. I like keeping it simple.
Soak the bread slices, quickly for each should be sufficient but doing it for longer is a little better. I generally soak them first, then light the stove and let them sit while it heats up.
Put the stove on medium to medium–high heat, and grease the frying pan with butter. Once things are sizzling, put the slices on. Time depends on the exact stove, so check starting in one to two minutes for it to look right on the bottom side. It should be solid with some dark spots, like this:
[Image source which then ruins them with bananas. Which is bananas. So don't do that.]
Then turn it over and wait until the other side looks the same, which should be faster, then serve immediately. Again, and this is important, spare no expense on the butter and maple syrup. Including on quantity. I recommend Kerrygold butter, pictured earlier. These are not places to be stingy.